PACCAR Parts maximizes uptime for customers through a world-class combination of 7/24/365 customer support, unparalleled part availability and distribution, and today's largest selection of quality OE and aftermarket parts for heavy- and medium-duty trucks. PACCAR Parts takes pride in adapting innovating technology and improving products to exceed customers' expectations.
FLEET SERVICES

PACCAR Parts Fleet Services program maximizes uptime for fleets of all sizes. The program serves more than 1,900 global fleet customers and allows them to quickly and easily streamline daily operations with consistent national pricing, centralized billing and network support. Fleet Services customers can depend on PACCAR Parts for unparalleled customer service and technical support.

ECOMMERCE

Customers have 7/24 access to more than 1.4 million parts through Online Parts Counter (OPC), PACCAR Parts' innovative eCommerce platform. OPC access ensures customers get the parts they need, when they need them. OPC also includes integration with the PACCAR Parts Loyalty Program, visibility to dealer inventory, part cross-referencing functionality, market basket pricing and an enhanced TRP parts catalog.

CUSTOMER SERVICE

PACCAR Parts 365 Center is available 7/24/365 with roadside and technical support to keep vehicles in operation. The 365 Center utilizes Total Customer Solutions 365 (TCS 365) technology, which quickly connects PACCAR, the dealer and the customer to provide the highest level of 7/24 uptime support. The 365 Center is equipped with an efficient roadside management system, personalized customer profiles, bilingual agents and an extensive network of PACCAR dealers and independent service providers around the globe.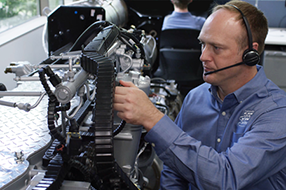 PACCAR ENGINE SUPPORT
The 365 Center is staffed 7/24 with certified PACCAR engine specialists. Equipped with advanced, proprietary diagnostic tools, these trained specialists help PACCAR dealer technicians servicing your medium- or heavy-duty truck resolve engine maintenance issues on the spot to get you back on the road. https://paccarpowertrain.com/engines/mx-13/