RENTON, Wash., (February 25, 2022) – PACCAR Parts awarded dealers for outstanding performance at this month's Peterbilt Dealer Meeting in Phoenix, AZ. Awards were presented to dealers for exceptional parts and TRP performance. These dealers demonstrated excellence in overall growth and fleet support, delivered industry-leading retail availability and invested in facilities, equipment and people to ensure the highest levels of customer service that drive uptime.
"PACCAR Parts is proud to recognize the top-performing dealers that demonstrate outstanding performance in parts purchase growth and customer service," said Laura Bloch, PACCAR Parts general manager and PACCAR vice president. "Through their performance, they strengthen our growing dealer network and contribute to our success."
The 2021 Peterbilt Parts and Service Dealer of the Year was awarded to Peterbilt of Atlanta. This dealer demonstrated excellent parts growth while providing superior customer service and exceptional retail availability. Peterbilt of Atlanta utilizes the PACCAR Parts Fleet Service program and PACCAR Parts technologies such as eCommerce and Managed Dealer Inventory (MDI).
"This award is a tribute to the hard work of our parts and service sales teams. Their efforts, in collaboration with PACCAR Parts programs such as Fleet Services and eCommerce enable us to better serve our customers," said Scott Pearson, Peterbilt of Atlanta president.
The TRP All-Makes Dealer of the Year award recognizes the Peterbilt dealer that provides the best support for the TRP brand. The TRP All-Makes Dealer of the Year was awarded to Jackson Group Peterbilt. In 2021, the group performed strongly with sales and retail availability. The dealer's focus on leveraging PACCAR Parts eCommerce platform, Online Parts Counter (OPC), makes it easy for customers to order parts when it is convenient for them. Jackson Group Peterbilt also expanded its TRP store footprint with the addition of a new store in Rexburg, Idaho, the second TRP store for the dealer group.
"We are honored to be recognized for growing the all-makes business. The TRP brand helps us expand into new markets and maximize uptime for all our customers," said Blake Jackson, Jackson Group Peterbilt president and chief executive officer.
"PACCAR Parts is committed to exceeding customer expectations. The strong partnership we have with the entire Peterbilt dealer network helps us provide an outstanding customer experience," said Brooke Vasquez, PACCAR Parts senior director of marketing.
About PACCAR Parts:
PACCAR Parts drives uptime for fleets of all sizes with industry-leading products, services and customer support. PACCAR Parts operates a global network of 18 parts distribution centers that offer aftermarket parts sales support to DAF, Kenworth and Peterbilt dealerships and TRP stores around the world. PACCAR Parts distributes quality products under the DAF, Kenworth, Peterbilt, PACCAR Genuine and TRP brands for all makes of trucks, trailers, buses and engines, as well as select OEM and aftermarket brands from around the world. Regardless of the make, model or age of the truck, PACCAR Parts takes pride in providing quality brands that exceed customer expectations. For more information, visit PACCARParts.com.
###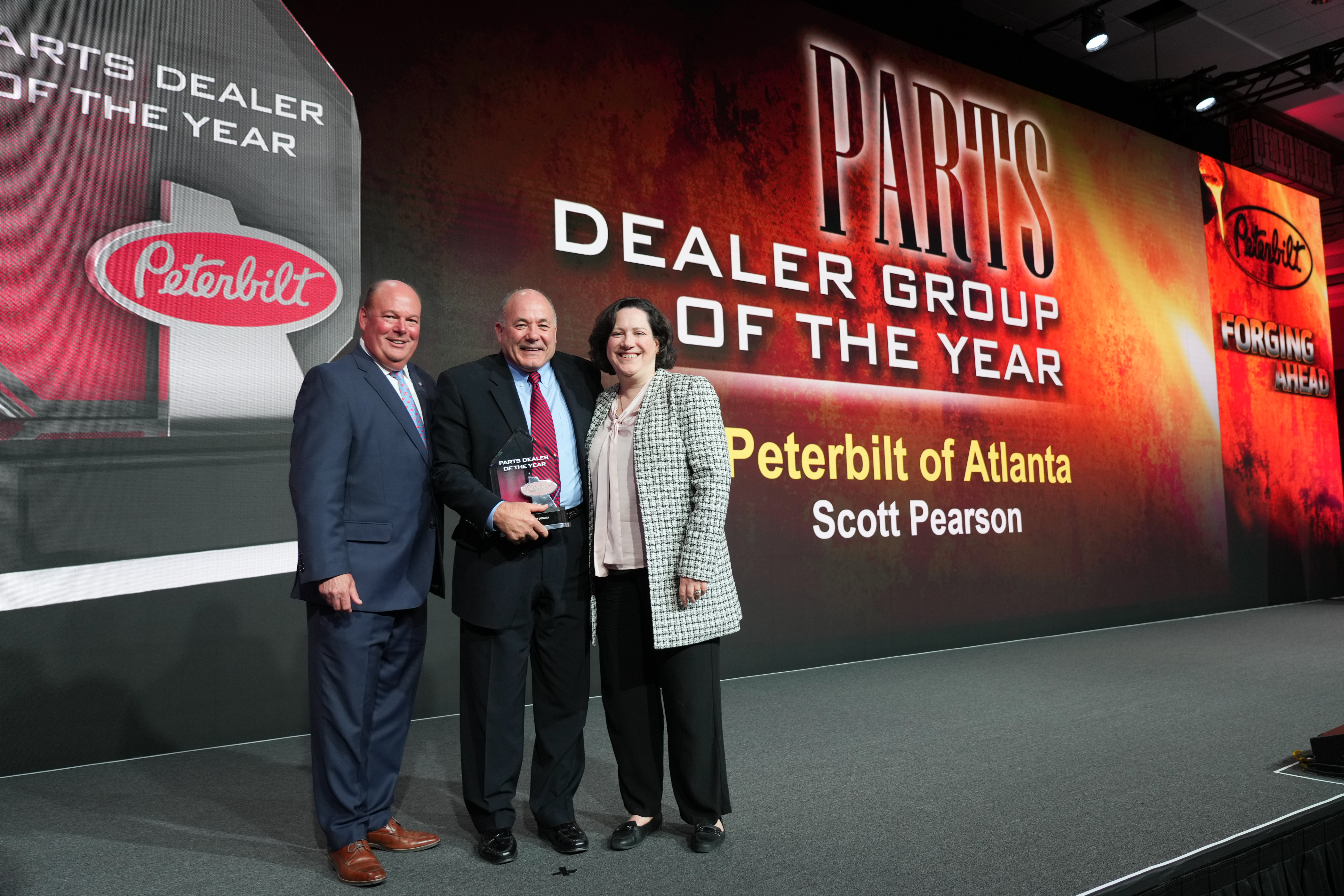 Download Image
2021 Peterbilt Parts and Service Dealer of the Year award – Peterbilt of Atlanta
From left to right: Peyton Harrell, Peterbilt director of dealer network development; Scott Pearson, Peterbilt of Atlanta president; Laura Bloch, PACCAR Parts general manager and PACCAR vice president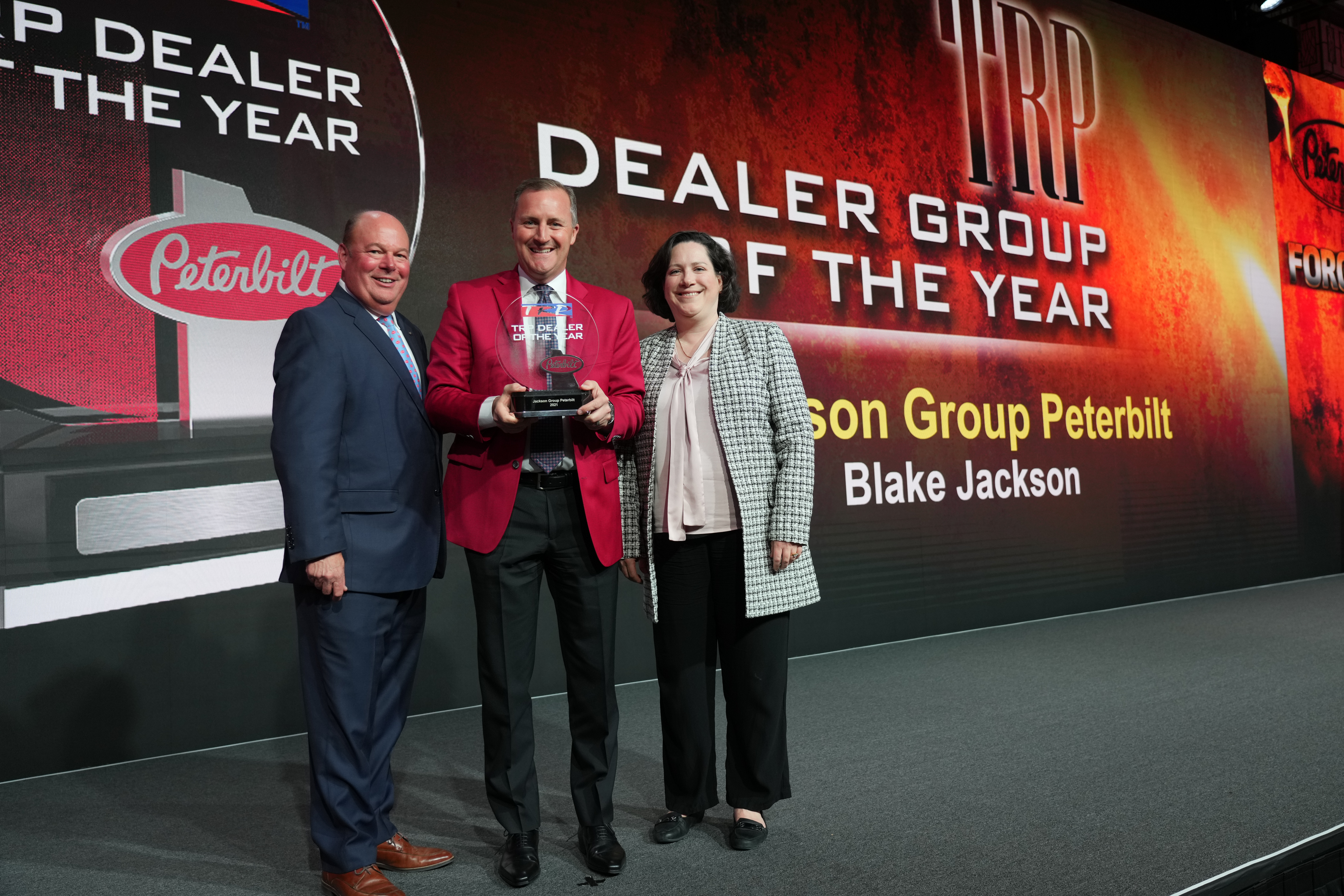 Download Image
2021 Peterbilt TRP All-Makes Dealer of the Year – Jackson Group Peterbilt
From left to right: Peyton Harrell, Peterbilt director of dealer network development, Blake Jackson, Jackson Group Peterbilt president and chief executive officer; Laura Bloch, PACCAR Parts general manager and PACCAR vice president