RENTON, Wash., (November 29, 2021) – PACCAR Parts has earned the official 2022 Military Friendly® Employer designation. The award is based on PACCAR Parts' efforts to provide rewarding career paths for veterans and by building strong partnerships with organizations like Hiring Our Heroes, a U.S. Chamber of Commerce Foundation.
Organizations earning the Military Friendly® Employer designation were evaluated using public data sources and proprietary survey responses. Over a thousand companies participated in the 2022 Military Friendly® survey, which focused on the organization's ability to meet the criteria for new hire retention, employee turnover, and promotion and advancement of veterans and military employees.
"We are proud to be recognized as a Military Friendly® Employer," said Wibo de Booij, PACCAR Parts director of human resources. "We value veterans' experience with cutting-edge technology and their appreciation for the diverse nature of our globalized economy. That knowledge and experience, combined with strong interpersonal and leadership skills, are strengths that we are looking for in new employees."
"Companies earning the Military Friendly® Employer designation create and elevate the standard for military programs across the globe. They have invested in substantive programs to recruit, retain and advance the veterans and service members within their organizations," said Kayla Lopez, Military Friendly®, director of military partnerships. "To them, hiring veterans and service members is more than just the right thing to do, it makes good business sense."
PACCAR Parts will be showcased along with other 2022 Military Friendly® Employers in the December issue of G.I. Jobs® magazine and on MilitaryFriendly.com
About PACCAR Parts:
PACCAR Parts drives uptime for fleets of all sizes with industry-leading products, services and customer support. PACCAR Parts operates a global network of 18 parts distribution centers that offer aftermarket parts sales support to DAF, Kenworth and Peterbilt dealerships and TRP stores around the world. PACCAR Parts distributes quality products under the DAF, Kenworth, Peterbilt, PACCAR Genuine and TRP brands for all makes of trucks, trailers, buses and engines, as well as select OEM and aftermarket brands from around the world. Regardless of the make, model or age of the truck, PACCAR Parts takes pride in providing quality brands that exceed customer expectations. For more information, visit PACCARParts.com.
About Military Friendly® Employers:
Military Friendly® is the standard that measures an organization's commitment, effort, and success in creating sustainable and meaningful benefits for the military community. Over 1,500 organizations compete annually for Military Friendly® designation. Military Friendly® ratings are owned by VIQTORY, Inc., a service-disabled, veteran-owned small business. VIQTORY is not affiliated with or endorsed by the U.S. Department of Defense or the federal government. Results are produced via a rules-based algorithm. The data-driven Military Friendly® lists and methodology can be found at https://www.militaryfriendly.com/mfcguide/.
About VIQTORY:
Founded in 2001, VIQTORY is a service- disabled, veteran-owned small business (SDVOSB) that connects the military community to civilian employment, educational and entrepreneurial opportunities through its owned assets such as Military Spouse Magazine®, G.I. Jobs ® and Military Friendly® brands. VIQTORY and its brands are not a part of or endorsed by the U.S. Dept of Defense or any federal government entity. Learn more about VIQTORY at www.Viqtory.com.
###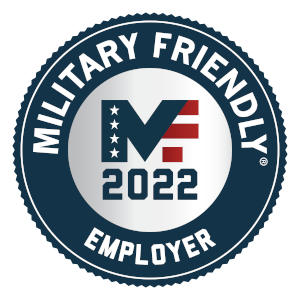 Download Image