RENTON, Wash., (October 11, 2021) – PACCAR Parts, the global leader in parts distribution and customer support for heavy- and medium-duty commercial vehicles, recognizes Horton Inc. as the 2020 Supplier of the Year for North America. PACCAR Parts' Supplier of the Year Award recognizes suppliers who demonstrate excellence in operational efficiency, retail sales growth, parts availability, cost management and program support.
"Horton is extremely customer-focused and goes above and beyond to make sure every customer is satisfied with their product," said Peter Ahrens, PACCAR Parts director of product marketing. "Horton seeks feedback from us at the time a product is being developed to ensure our voice is heard and customers receive the best product in the market."
Horton was awarded for strong on-time shipping performance, exceptional sales support efforts, training and providing significant value to the Kenworth, Peterbilt and TRP dealer network.
"The 2020 Supplier of the Year Award is a direct reflection of the hard work and commitment of our associates to provide superior products and outstanding customer service," said Cordell Dietz, Horton CEO and president. "We are extremely humbled and grateful to be a recipient of this award and we are proud of our partnership."
"Horton is a proactive supplier. They always engage PACCAR Parts with options to improve product offerings to customers and provide excellent aftermarket solutions. We value our strong collaborative partnership with Horton," said David Danforth, PACCAR Parts general manager and PACCAR vice president.
About PACCAR Parts:
PACCAR Parts drives uptime for fleets of all sizes with industry-leading products, services and customer support. PACCAR Parts operates a global network of 18 parts distribution centers that offer aftermarket parts sales support to DAF, Kenworth and Peterbilt dealerships and TRP stores around the world. PACCAR Parts distributes quality products under the DAF, Kenworth, Peterbilt, PACCAR Genuine and TRP brands for all makes of trucks, trailers, buses and engines, as well as select OEM and aftermarket brands from around the world. Regardless of the make, model or age of the truck, PACCAR Parts takes pride in providing quality brands that exceed customer expectations. For more information, visit PACCARParts.com.
###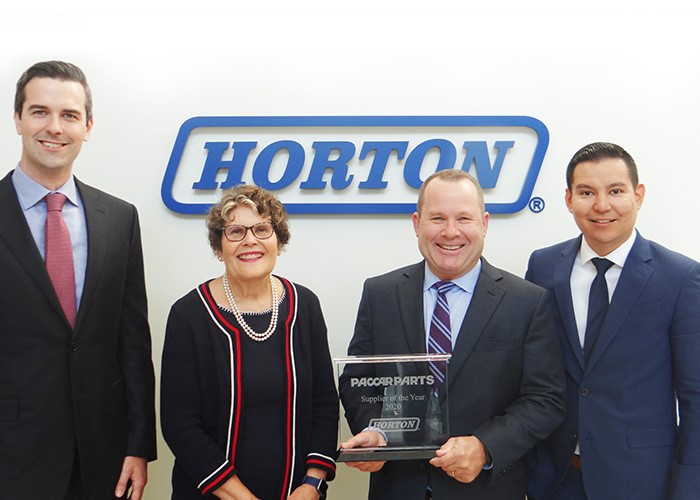 Download Image
From left to right: Peter Ahrens, PACCAR Parts director of product marketing, Terryl Gilberstadt, Horton vice chairwoman & corporate secretary, Cordell Dietz, Horton president and CEO, and Jesus Cota, PACCAR Parts senior product director.